Designing the best guest experience per dollar spent
Hotel guests have a unique way of perceiving value that must be understood in order to make smart spending decisions. In Hotel Business Review, LEO A DALY's global practice leader for hospitality, Pat Miller, shares tips for designing the best guest experience per dollar spent.

Designing to Meet an Owner's Needs and a Guest's Expectations
by Pat Miller
In hospitality, the best hotels are the ones that envelop guests in the fantasy that no expense was spared in providing an authentic, luxurious, and unique guest experience.
Of course, we all know that to be a fantasy. Even the most high-end hotel has a finite budget. Every cost associated with its design and operation has been engineered. Every thread was counted, every view framed, and every piece of designer furniture strategically placed to increase revenue. The true value of a hospitality designer is his or her ability to spend money wisely. There is a science to producing the largest look per dollar spent. It's something I've been studying for thirty years.
Some of the truths I've learned over my decades in hospitality design relate to how guests perceive value (which is different than how you and I might). In the following paragraphs, I'll take you through some real-world examples of how a designer makes subtle shifts in priority to meet the owner's needs and guest expectations. The lessons contained therein can be instructive on creating unique and memorable guest experiences at every level of service and budget.
How Guests Do Not Perceive Value
I'll start with a quick story. Once, traveling abroad, I stayed in a five-star hotel whose main design feature was a gigantic gold-leaf dome in the atrium. All of the guest rooms looked inward toward this atrium, making it the focal point of the experience. High above the guests, this golden waste of money hung, filling the lobby with strange echoes, and impressing no one. The problem was, it was too high up for the guest to truly experience in detail. Designers often suffer from an urge to make fancy, expensive design statements that may serve the designer's ego or reputation, but fall flat with the most important audience: the guest.
How Guests Really Perceive Value
Guests have a unique way of perceiving value that must be understood in order to make smart spending decisions. It's not an analytical process, but rather an emotional one that cuts to the heart of the guest's identity and the construction of memory.
The guest experience is primarily sensory, with sight, smell, taste, hearing and touch playing a role. In a hospitality setting, those sensory inputs resonate in various ways with the guest's lifestyle and expectations to produce an emotional response. Guiding that emotional state is the primary goal of hospitality design. It is the key to setting the stage for memorable experiences and generating guest loyalty.
When we design a space, our first question is, "What do we want the guest to feel?" The answer changes from space to space. The feeling of arrival is different from the feeling of getting ready for a night out, which is different from the feeling of retiring for the evening.
A great design makes judicious use of design dollars to support the sensory and emotional experience in different ways throughout the property. This big-picture understanding is the first key in designing a hospitality experience that results in business, excitement, and enthusiasm about a property.
Know Thy Guest
Before any hospitality project gets started, it's crucial that the owner and designer have a solid shared understanding of who the guest is. Narrowing down your target allows you to focus specifically on what your guest wants and needs, rather than trying to be all things to all people.
When LEO A DALY starts a project, we view our role as part financial advisor. We begin with a dialogue about the client's goals and target guest, taking into consideration their lifestyle and habits, as well as the reason they come. That motivation, coupled with considerations of location and amenities, offers a window into where we should focus our big expenses.
Hotel Talisa, our latest project and Vail's newest luxury hotel, offers a great example of how design decisions were aided by a specific understanding the guest. When considering where to spend, we could have chosen a number of focus areas, but in the end we chose to give the greatest attention to the guest rooms and restaurant/lobby spaces. Why? Well, imagine the guest experience for a moment.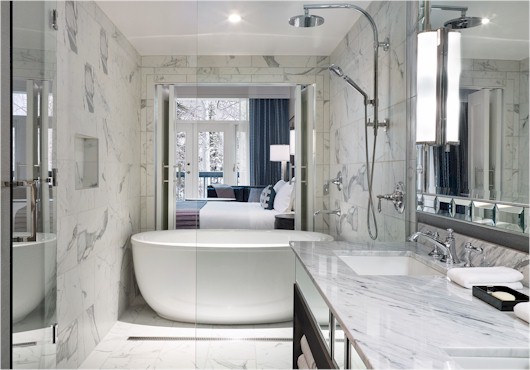 In simple terms, guests go to Vail to engage with nature. They ski, hike, climb, ride horses - and when they get back to the hotel, they are tired - ready for a hot shower or a soothing soak in a tub. So, knowing it would get heavy use, we put extra attention into the comfort of the guest room. The bathrooms are oversized, with luxurious showers set alongside elegant soaking tubs so big you can sit in water up to your chin. This gives guests a restorative place to recharge as they reflect on the day.
Then, of course, guests in Vail need a place to tell their stories! Maybe they just survived an epic mogul run, saw a bear while hiking in the backwoods, or photographed an alpine lake that has to be seen to be believed. Storytelling is a key part of memory formation, and something we wanted to encourage in the design. For this reason, we put extra attention into creating lobby, restaurant and bar spaces that would energize social activity, and encourage guests to stick around for a drink around the fire.
Make a First Impression
A guest's first moments in a hotel property are often the most impactful, setting the stage for powerful emotional experiences. When a guest arrives at a property, they are in a moment of transition and uncertainty. Design has the opportunity to introduce a shift in consciousness and create a positive emotional baseline for experience.
Beverly Hills Marriott's recent $26 million renovation transformed the guest's entry experience in order to rebrand the hotel as a fashionable, exclusive place to see and be seen. From the moment the guest arrives, they are greeted with a multi-sensory experience that exudes Beverly Hills panache.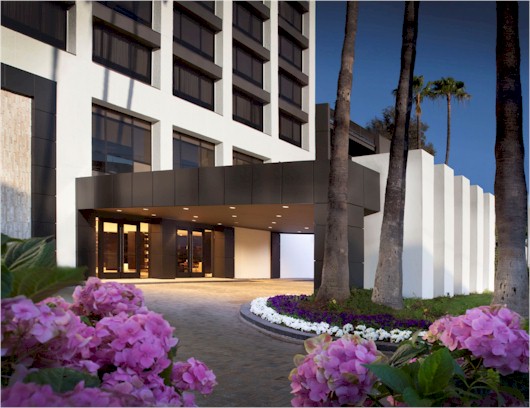 The hotel's new exterior coating of black and white immediately differentiates the Marriott from its former brand identity. A porte-cochere envelops guests in a special feeling, and as they step out of the car, pavers greet their feet instead of blacktop. From that vantage, they are offered a peek at the incredible new pool and outdoor lounge area. So, before the guest has even walked into the hotel, they've already experienced a total change in character from wherever they have been to where they are.
Continuing into the lobby, the experience is high-end. Slick finishes in black-and-white, marble tile, and a front desk that looks unlike any other, creates an instant sense of glamor. The M club, restaurant, bar and pool are all within view, as the guest feels special, ready to go wherever they want to go, and be whoever they want to be.
Invest in Non-Room Revenue Opportunities
After the guest has entered the hotel proper, public spaces such as the lobby and bar become significant drivers in how they feel, how long they stay, and how much they spend. Non-room revenue can be lucrative, but many hotel owners don't use it as effectively as they could. Attention paid to design details here can go a long way.
The newly transformed Diplomat Beach Resort in Hollywood, Florida, has always been a magnet for vacationers and conference-goers. The hotel's signature architecture accentuates spectacular views to the Atlantic Ocean.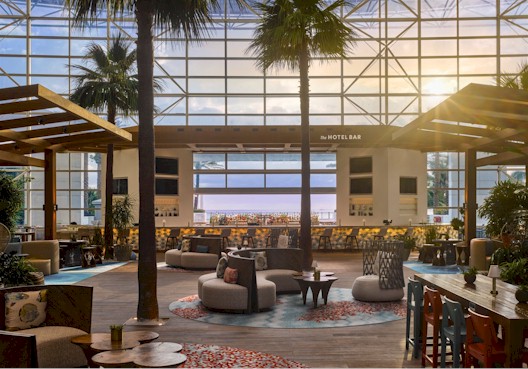 Before its recent renovation, a guest entering the Diplomat's lobby could not have fully enjoyed the Diplomat's best amenity: ocean views. Escalators narrowed the view corridor. A long fountain ran through the middle, taking away from the lobby's potential as a social hub.
Our renovation removed the escalators and fountain. In exchange, we opened the lobby views to the ocean beyond with a NanaWall folding glass-wall system, which provides visibility and circulation between indoor and outdoor spaces. We designed a huge bar in the center of the space that opens up to the exterior ocean side, and transformed the interior space. Cabana-like pockets of interior seating provide a place to eat, drink, and entertain.
The redesign takes better advantage of the hotel's valuable location, its views, and iconic architecture - while boosting potential revenue-generating space. Although it cost some money to remove the escalators and fountains, the expense was well justified.
Chase Timeless, Not Trendy
Fast-fashion has become a buzzword for cheaply made looks that sparkle for a day but wear out quickly. Architecture and interior design can't afford to be disposable. It takes a long time to create and install, and needs to last a lot longer than Pantone's color of the year. For this reason, it's important to design a space to be timeless - which is actually much harder than "trendy."
The new Marriott Omaha Downtown at the Capitol District does an exquisite job of creating a high-end, multi-sensory experience that is designed to stand the test of time. For inspiration, we looked toward the Omaha's uber-quaint Old Market neighborhood, seeking colors and finishes that reflect the city's historic roots.
The new design hitches its wagon to the place, not trend, with a mix of rustic and refined details. Brick walls, rough-hewn wood, leather, ironwork, and artistic glass give the hotel a distinctive local flavor.
Choosing these finishes required a delicate balance of aesthetic and budgetary considerations, always with the big-picture in mind. We asked, how will the guest feel as they move through this space, and kept the most expensive and textural finishes where the guest can see and feel them.
As guests navigate the hotel, they are engaged at every turn. Rather than spending big on a single "wow" moment, we let texture, material, and coloration do the heavy lifting. Spreading the high-end elements throughout the Great Room, pre-function area, restaurants, pool, bars, and ballrooms, we create a continuous environment of luxury. The design unfolds in a natural and dynamic way, unveiling surprises sure to keep guests coming back.
Validate Brand Standards
When we work with clients in charrette, the template has often been pre-determined by brand standards. Our job as designers is to slow down, look at the specific guest being targeted, and question assumptions in the program. Only by validating the rationale behind brand standards can we meet them in a thoughtful and ultimately more efficient way.
Guest rooms are an exponential expense, meaning that a design decision made in one will reverberate across the property and quickly add up. Smart decisions here can go a long way toward making a luxe experience that meets guest needs while also being financially sound.
For a given property, we need to ask what size the room really needs to be. Is 450 square-feet necessary, or will 420 provide the same experience? Are the guests using the tubs, or will a really amazing shower be a better choice? Are they using the dresser? Alarm clock? Desk? Safe? Or could that money and space be used better elsewhere? Can a guest tell the difference between a ceiling height of 25 feet and 20 feet?
By validating every element of every project, we become trusted guide and partners to our clients, rather than a potential liability.
Work With Experts
Hospitality is a difficult industry with tight profit margins, and hotel executives have a lot at stake. Speed to market can make or break a hotel investment, and cost and schedule overruns can kill competitive edge. For this reason, it's crucial for owners to partner with a design firm that can truly achieve their goals.
Many designers can pitch a beautiful concept; where the rubber meets the road is understanding schedule and budget. It's all too common for a design to rely on pie-in-the-sky ideas, only to fall apart due to ballooning material costs. This leads to an excessive amount of "value engineering," where the most expensive elements of the design get downgraded, and in the process, the real impact on the guest experience is lost.
A big part of successful design is using real-world cost information throughout the design process. Knowing the market, locale, available products, services and prices makes cost an integral part of the design, rather than an afterthought. When we design to the budget, we don't need to value engineer, and the project actually comes out the way it is intended.
Before partnering with a designer, owners should test their knowledge of the industry, from the functionality of how a hotel works on a day-to-day basis, to factors such as labor costs, market shifts, materials, and fabricators. The team you work with should have deep relationships with vendors and contractors, an impeccable reputation for design documentation, and a history of financially successful projects.
Every project has a budget. The goal of design is to use that budget wisely to have the biggest impact on the guest's perception of the property. The ultimate value of design is the ability to focus on the right elements, put every dollar in the right place, and translate an owner's vision into a memorable guest experience.
This goes beyond trends - beyond customer-service robots, or buildings with trees on top, or other big, sexy design gestures. The core of the hospitality business is the guest. Only by strategic and knowledgeable design and planning can the guest become enveloped in the fantasy that no cost was cut, no expense spared in making them feel special. That emotional connection is what creates memories, keeps guests coming back, and generates a high return on investment.
This article was published by Hotel Business Review in November, 2017. It is reprinted here with permission.